2016 American Graphic Design Awards
It's a tradition at Liaison Design Group to enter some of our favorite graphic design projects into the Annual American Graphic Design Awards competition. We don't enter many contests, but this one has been the one we don't miss for as long as I can remember. 2016 marks the 53rd year of Graphic Design USA's flagship design competition, and while it's changed over time to allow for new technologies, it remains true to the goal of finding and celebrating high quality graphic design work.
A sampling of our winning entries include:
York County Economic Development logo design
The economic development organization in York County South Carolina hired our firm to create a new graphic identity, website (under construction) and marketing collateral to promote the benefits of doing business in its community. York County sits just south of Charlotte, NC, and is very much part of the greater Charlotte Metro area. It is incredibly well-connected to the amenities of Charlotte, but is proud to have its own distinct character. The design that was selected celebrates connectivity, collaboration, growth, and yet it still contains two distinct elements.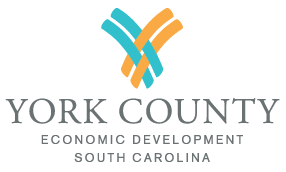 Catawba County Economic Development Website
Located in the western part of North Carolina, Catawba County has a rich tradition as a hub of manufacturing activity. Over time, as manufacturing has changed, so to have the kinds of companies that call the area home. Today, almost 25% of the County's workforce is employed in manufacturing—from furniture to fiber optics. It's something the community and its residents celebrate. And it's something that definitely comes across when you visit the website. Visit the Catawba County EDC website.
Wake County Economic Development Municipal Fact Sheets
Wake County, NC—think Raleigh and the Research Triangle Park—is home to 12 different cities and towns. They range in size from 5,000 residents (Rolesville) to more than 400,000 people (Raleigh). While these cities and towns are all very different, they do have one thing in common. They're part of the fast growing Research Triangle Region of North Carolina. Our task as directed by Wake County Economic Development was to create a series of community fact sheets that felt like part of a family, while allowing each community the ability to tell it's own story.