A Star is Born!
While he may... Hang on. While she may not... OK, start over. While it may not be the "World's Greatest Spokesperson in the World," our 6-legged friend has proven to be a big hit for FineLine Prototyping.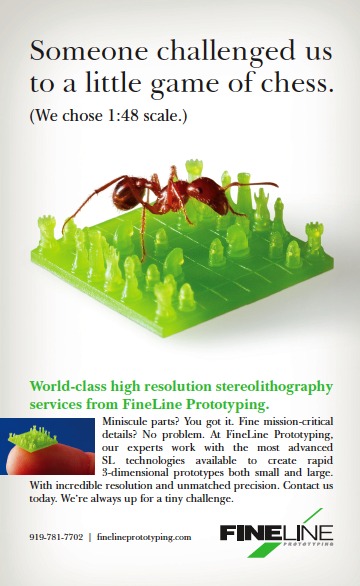 Rob Connelly—all around nice guy, amateur photographer and president of FineLine Prototyping—wanted to show just how precise his company is able to make prototypes. So he built a teeny tiny chessboard. And he wanted to have a little fun with scale, so he bought an ant farm. Enter the tricky part. How to get an ant to interact with a tiny plastic chessboard. The answer was really sweet and simple—use honey. After dabbing the chessboard with honey and letting the ants play (in a safe environment), all that was left to do was wait. Fortunately it didn't take too long to lure the ant onto the board. And Rob began snapping shots as quickly as possible.
The end result was a pretty stunning photo, one we all felt was worthy of showing off. So we decided to create an ad out of it. Based on reader surveys, this was consistently one of the most remembered and well received ads viewed. Rob was happy. We were happy. And our little buddy is happy. In fact, he is currently living the high life as the FineLine Prototyping mascot.